Craving a little summer to get you through the last blows of winter? You could go halfway around the world to Chile or Australia...or you could go to Palm Springs. This western oasis has tons of chic places to dine, drink or dance and is as perfect for a girls getaway as for a romantic rendezvous. Imagine you're in an episode of Mad Men set in the middle of the desert. Oh, did I mention they even have an airport for easy access?
WHERE TO STAY
$395 +
This Jonathan Adler designed hotel is the epitome of the Palm Springs dream. The first place I ever stayed in PS and it had me wondering "IS THIS REAL LIFE?!" Many a wedding has taken place in it's lavish gardens, and the fireplace lounge is perfect for lounging once the desert temps drop in the evening. It's a little off the beaten track, but still close enough to town to be convenient
$300 +
Surrounded by bohemian luxe textiles and an intimate vibeyness (yup, it's a word) you'll swear you are in Mykonos. The tree-lined pool actually beats The Parker's for my vote, and the villas are about as private as can be. We lived it up in Room 18, which should have been called "House 18" at 865 square feet with a full kitchen and dining area, private patio with a clawfoot tub and fire-pit. Oh yeah, and a fireplace in the living room too. Breakfast baskets are delivered to your room each morning, allowing for coffee and croissants eaten from the tub. All in all one of my favorite hotel experiences. Ever.
WHERE TO EAT
Naturally gluten-free, Provencal style savory buckwheat crepes (and a whole lot of other delicious things) in a French garden. Sold. We barely caught the very last table of the afternoon before closing for the season and had to beg our way in. It was worth it.
Next door to Farm, this raw vegan spot is a great place to grab an organic juice while you wait. Or an epic looking raw veggie burger if you get impatient.
Even in the dead of summer, the lush garden feels refreshing thanks to a fleet of misters. The massive menu offers something for everyone, and you pretty much can't go wrong. The owner is great, the vibe is chill, the food is perfect, oh and the dessert bar… let's just say, leave room (even if you're gluten-free).
Next door to La Serena Villas is The Avalon hotel where you'll find Chi Chi and Estrella Spa (see below). Come for the Chi Chi Quiles, Wellness (Vegan) Burger and green juices, or indulge in Waffles & Bone Marrow Butter.
This twinkle-lit magical garden is open late, so it's usually our first stop for dinner when we get to Palm Springs. Delicious enough to warrant a visit at any time of day, gluten-free and plenty of non-pizza options too.
Carey Grant's old guest house! You're here for the history and the ambiance more than the food, but it's an experience you won't want to miss.
Local, seasonal, craft… all the buzzwords can be found here, and pulled off in the way they were intended. Very Brooklyn… in the best possible way. One of the best meals we had in Palm Springs.
One of the most upscale meals in town, this special occasion spot is worth a visit...for a special occasion. Gorgeous food, an excellent wine selection and a great way to peep the small but swanky L'Horizon Hotel. The entire restaurant is outdoors, so bring something to ward off the desert chill.
WHAT TO DO
There are few things I enjoy more than a massage. Period. However, too often I find hotel massages overpriced and underwhelming. Not so at The Avalon hotel spa, Estrella, where the masseuses mean business. I left feeling like I didn't have an ounce of stress left in my body, but I promptly got a watermelon cocktail by the pool afterward - just to be sure.
Every first Sunday of the month from 8am-2pm, the best mid-century modern furniture, eclectic decor and whimsical vintage fashions explodes onto a parking lot. If you're a frequenter of Los Angeles Flea Markets, you could liken it to the Santa Monica Airport Antique Market in size and scope. The selection is well edited and the prices are great.
If you can't make the flea, The Frippery is the best place to get your vintage fix. A total treasure trove of 60's and 70's garb, impeccably edited and at fair prices. This place beats any of its kind that I've seen (and I've seen a loooot of vintage shops.)
Wacky decor, boozy but delicious drinks served in funky cups with umbrellas and a rambunctious party vibe...what more could one want from a Tiki bar? This place is a must for the full Palm Springs experience. Just don't plan much for afterward.
WHAT TO KNOW
DRESS TO IMPRESS...OR NOT
You won't feel overdressed in your enormous floppy sun hat by the pool, or wearing layered jewelry and heels out to dinner. But you'll feel just as comfortable wearing your sundress and sandals from morning 'till night. This is the place to experiment with that wacky pair of sunglasses or vintage jumpsuit you've been hanging onto.
SUMMER SHUT DOWN
It's the desert, so summer temps climb well into the hundreds. (We took my boyfriend's vintage car and in July and the door handle actually melted. Off!) Many places shut down for the season after the 4th of July, so plan accordingly.
GETTING AROUND
If you fly into PSP airport and don't want to rent a car, you don't have to! Both Uber and Lyft service the area.
WHAT TO PACK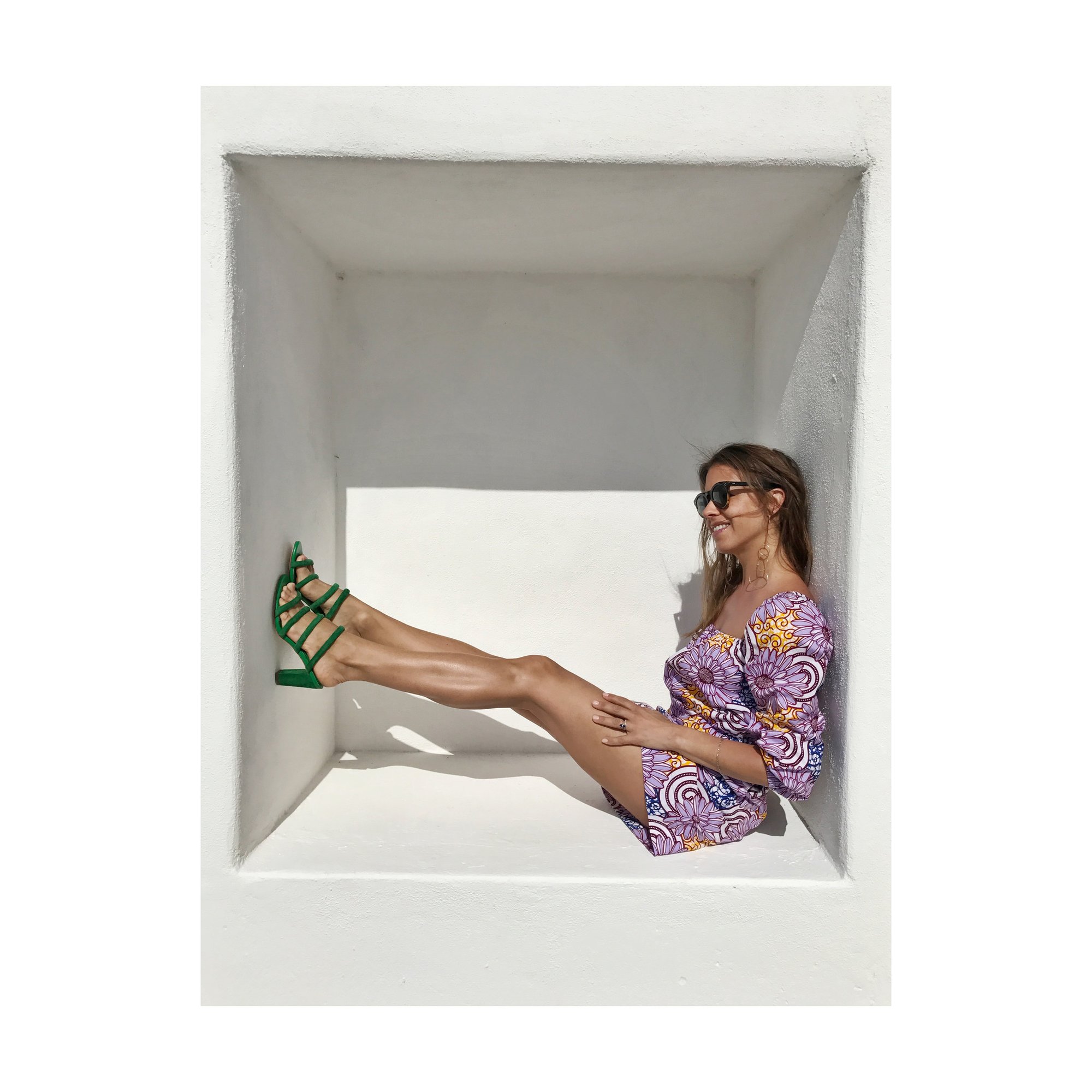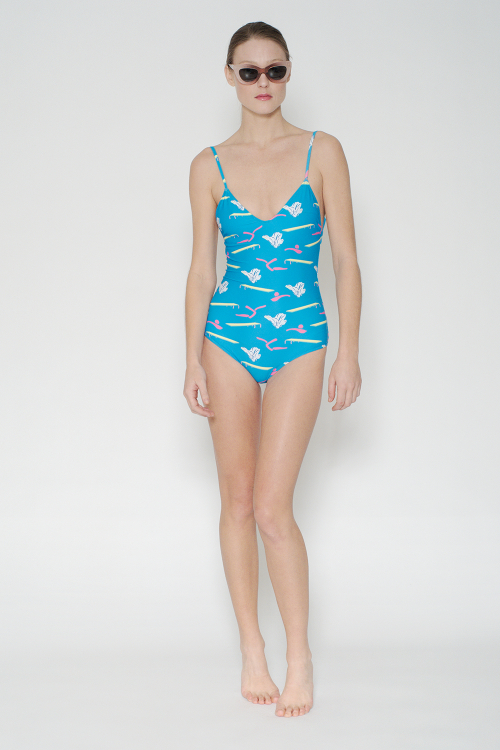 wardrobe cred
Red and white dresses by Rhode Resort
Blue print mini dress - Vintage
Printed bikini and beach tote - Missoni
Sun hat - Vintage from The Frippery
Green suede heels - Vintage Gucci